The Ohio Food Forum took place on May 2nd at the Nationwide and Ohio Farm Bureau 4-H Center in Columbus, Ohio. 37 local companies exhibitied their products at the event while 20 local buyers were in attendance. Companies displayed their products at the 4-H Center in a trade-show like fashion, as well as met individually with local buyers. New sales relationships were successfully constructed between buyers and vendors and productive networking was conducted. The event featured an Ohio Proud lunch with delicious food products from the Ohio Proud partners. For a complete list of the Ohio Proud partners, please visit: http://www.ohioproud.org/.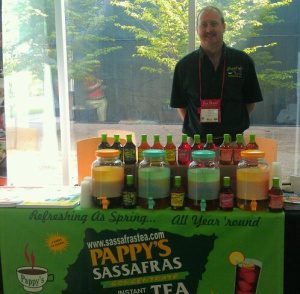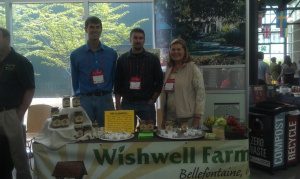 Exhibiting Companies Included:
Aimee's Blue Ribbon Spices
http://www.blueribbonspices.com
Annarino Foods
http://www.annarinofoods.com/
Ballreich Bros. Inc.
http://www.ballreich.com
Bessie's Noodles
http://www.bessiesnoodles.com
Blue Ribbon Farm Fish
http://www.blueribbonfishprocessing.com/
Buckeye Blueberry Growers
Chub Industries, LLC
http://www.eatchub.com
Crimson Cup Coffee & Tea
http://www.crimsoncup.com
DNO, Inc.
http://www.dnoinc.com
Dolce Pizzelles Cookie Co.
http://www.dolcepizzelles.com
DRW Packing, Inc.
http://www.dougwalcherfarms.com
Eat Well Distribution
http://www.eatwelldistribution.com/
Georgette's Grounds & Gifts
http://www.georgettes.org
H&K Products, Inc.
http://www.sassafrastea.com
Heartland Herbs LLC
http://www.heartlandherbs.com
Herold Salads Inc.
http://www.heroldsalads.com
Johnson's Real Ice Cream
http://www.johnsonsrealicecream.com
Keystone Meats
http://www.keystonemeats.com
Maria Adornetto Old World Cucina
http://www.mariaadornetto.com
Michael Farms
http://www.michaelfarms.com
Mudflats Brands "Chef Inspired" Sauces
http://www.themudflats.com
Pet Passions
http://www.petpassionsandfashions.com
Robert Rothschild Farms
http://www.robertrothschild.com
Royal Fireworks Sauces
http://www.royalfireworkssauce.com
Sauders Amish Country Eggs
http://www.saudereggs.com
Seasonal Selections
http://www.seasonalselectionssalsa.com
Seyrell's Food Products LLC
Shagbark Seed & Mill
http://www.shagbarkmill.com
Seasonings of Salnoica
http://www.ohioproud.org/partner?Seasonings Of Salonica
Sweet Mamas Gluten Free Goodies
http://www.sweetmamasbakery.com
Taste Weavers
http://www.TasteWeavers.com
The Bratwork's LTD
http://www.thebratworks.com
The Good Frank
http://www.thegoodfrank.com
The Gourmet Farm Girl LLC
http://www.thegourmetfarmgirl.com
Velvet View Farmstead Ltd
Westbrook's Cannery
http://www.westbrookscannery.com
Wishwell Farms
http://www.wishwellfarms.com
Buyers in Attendance Included:
The Statehouse Gift Shop
Weilands
Sugarbush Corp.
Giant Eagle
Produce One
Economy Produce
Columbus Asia Market
Celina City Schools
Crosset Co.
Sunrise Asian American Market
Bon Appetit
Dorothy Lane
St. Ignatious Schools
Lynd's Fruit Farm
Caldwell Food Centre
DNR Meats
Bexley Natural Foods
Caito Foods
Thank you to all of our exhibitors and buyers that attended the Ohio Food Forum!