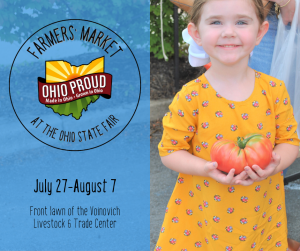 The Ohio Department of Agriculture invites you to the Ohio Proud Farmers' Market at this year's Ohio State Fair! The Market will carry products from our Ohio Proud vendors which include: fruits and vegetables, honey, flowers, baked goods, jams and jellies, soaps and more. A variety of Ohio Proud Partners will be there each day to showcase their products and sell to fairgoers.
The market will be located in the front lawn of the Voinovich Livestock & Trade Center. We'll be sharing that area with a new exhibit, Little Farmers, a hands-on educational exhibit, targeted toward kids ages 3 to 10, allows youth to explore different aspects of Ohio agriculture. Families will navigate through eight different stations featuring simulated animals, real grains, gardening, and more, with the opportunity to pick a small prize at the final station, the Ohio Proud Farmer's Market.
Want to get your fair tickets ahead of time? Visit the Ohio State Fair website to buy tickets and plan your trip. We can't wait to see you at the fair!