Nothing is more summer than the smell of burgers cooking on the grill and we've got Anna Gest with the Ohio Beef Council to give us her best burger tips and tricks. Ana is not only a registered dietitian nutritionist, but she's also a beef farmer herself! To compliment Ana's juicy burgers, we also have resident "Eggspert" Jim Chakeres of Ohio Poultry Association to give us his best deviled eggs recipe. When I tell you these are good–THESE ARE GOOD– so stick around and watch the latest Dishing with Dorothy for these cookout favorites.
Ohio Beef Council Classic and BBQ Burgers
Master this classic burger recipe and you'll be the king (or queen) of the grill from here on out. Once, you're a grilling expert, take your burgers up a notch with specialty toppings!
Base Burger Ingredients:
1 pound lean ground beef (85% lean or higher)
1 egg white
¼ c. bread crumbs
Salt and Pepper
Buns (We used Schwebel Buns)
Directions:
1. Set grill to medium and let heat for a minimum of 10 minutes if using gas or until coals turn white if using charcoal. Form patties and season liberally with salt and pepper. Place a dimple in the center of the burger patty to minimize shrinking and optimize cooking.
2. Place burgers on the grill and cook approximately 4 to 5 minutes, depending on size and thickness. Flip burger and grill an additional 4 to 5 minutes or until the center of the burger reaches an internal temperature of 160°F.
3. Avoid pressing down on burgers and only flip burgers once during cooking.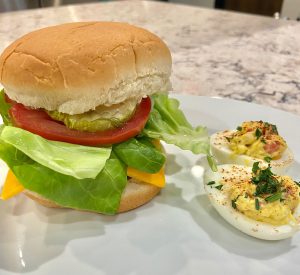 Classic Burger Toppings:
Cheddar cheese (We like using Urban Stead Cheeses "Street Ched" cheddar cheese)
Lettuce (We used Great Lakes Growers Green Butter Lettuce)
Sliced tomato & onion
Pickles (We like using Cleveland Kitchen's Dilly Garlic or Kaiser Pickles' Extra Garlic)
Ketchup (We like Cleveland Ketchup Company's Bacon & Bourbon or Garlic & Dill Flavors)
Mustard (We like The Mustard Man's Simply  Sweet, Woeber's Sweet &Spicy Mustard, or Bertman's Original Ball Park Mustard)
BBQ Burger Toppings:
Cheese (We like Pearl Valley Pepper Jack or Provolone)
BBQ sauce (We like using these Ohio Proud partner options)
Coleslaw (We like using Dole shredded cabbage and Hartville Kitchen Original Cole Slaw Dressing)
Other Themed Burger Ideas:
Greek burger- plain Greek yogurt, sliced cucumbers, feta cheese, red onions
Italian burger- sliced tomatoes, fresh mozzarella, balsamic vinegar, fresh basil
Bacon, Tomato, Ranch Deviled Eggs
A savory twist on classic deviled eggs, simple Bacon Ranch Tomato Deviled Eggs are bursting with creamy ranch flavor. Top with crispy bacon and juicy tomatoes. Perfect for family get togethers, picnics and cookouts!
Ingredients
6 eggs, hard cooked
2 tablespoons mayonnaise
1 tablespoon mustard
2½ teaspoons powdered ranch dressing mix
1 teaspoon sugar (may use equivalent of Splenda or Stevia)
2 tablespoons green onions, minced
3 tablespoons minced, crispy bacon pieces (turkey bacon!)
3 tablespoons tomato, seeded and chopped (1/4 inch)
Salt and pepper to taste
Parsley, finely chopped for garnish
Directions
Peel and cut hard-cooked eggs in half. Remove yolks to small mixing bowl. Finely mash yolks with fork.
Add mayonnaise and mustard; mixing thoroughly.
Add ranch dressing mix and sweetener; mixing well.
Add onion and bacon; mixing well again.
Gently fold chopped tomato into mixture.
Add salt and pepper to taste.
Fill 12 egg white halves with an equal mixture of filling.
Garnish with parsley.