Can you believe it is almost 2013?  Crazy! 2012 just flew by!
If your New Year's Eve planning got lost in the holiday shuffle, chances are you will be doing some frantic party planning over this weekend. But there is no need to fret!  There is still plenty of time to plan out a great, festive and unique menu for your guests that will kick off the new year in style.
While we're talking about great and unique party ideas, why not ring in the new year and support local businesses at the same time?
Ohio Proud partners offer a wide range of food and beverage products that are at least 50% grown, raised or produced right here in the great state of Ohio!
Serving finger foods?  Ohio is a leader in the production of many varieties of artisean cheeses.  Here are just a few examples:
You could also pick up some crackers from Shagbark Seed & Mill Company.
Did you know that the state fruit of Ohio is the tomato?  It's not surprising, then, that there are some incredible Ohio Proud salsas available for you chip-dipping guests, such as:
What goes better with salsa than some tasty local chips?
Sweet tooth? How about serving your guests some of these cookies and candies? (You will note my list of sweet treats is the longest in this post… my priorities are in order.)
If you would like to serve your guests some Ohio wines and spirits, you can research Ohio Proud wineries by going to our partner search pageand selecting the category wines and grape juices.
Finally, if you'll have house guests travelling in from out of town or are anticipating the potential for a groggy New Year's Day, it might be a good idea to stock up on some Ohio Proud coffee, too. Here are a few options:
You can look for these and other great Ohio Proud products in your local grocery store and in specialty stores by looking for the Ohio Proud logo.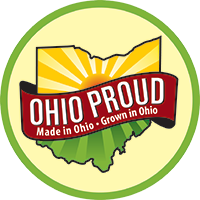 For more examples of great Ohio Proud Products, visit www.OhioProud.org and search for an Ohio Proud partner. You can also search great recipes on our website here: http://ohioproud.org/recipes.php
Finally (then I am done, I promise) if you are looking for more great New Year's Eve party ideas, follow us on Pinterest!
From all of us here at the Ohio Department of Agriculture, home of Ohio Proud, we wish you and your families a safe and happy new year.