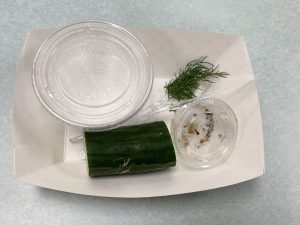 Teach students about harvest time and how it can impact what they eat with an easy lesson on how to make pickles, courtesy of Cincinnati Public Schools! Follow this How to Simply Pickle Food guide to show how the vegetables families grow in the garden can turn into their favorite burger toppings—and also show the importance of food preservation.
Refrigerator Pickles Recipe
(makes 1 pint)
Ingredients
3 pickling cucumbers, each about 4 inches in length, sliced evenly
1/4 cup Vidalia onion, sliced
3-5 sprigs fresh dill weed
1/2 cup apple cider vinegar
1/2 cup water
2 cloves garlic, smashed
1 1/2 teaspoons pickling salt, or kosher salt
1/4 teaspoon granulated sugar
1/4 teaspoon whole black peppercorns
1/4 teaspoon whole yellow mustard seeds
Pinch crushed red pepper flakes
Optional- 1 tsp sugar
Instructions
Pack a clean pint-sized jar with sliced cucumbers, onion slices, and dill sprigs. Leave a 1/2 inch of space at the top of the jar for liquid.
In a small pot heat the vinegar, water, garlic, and all spices until the mixture comes to a simmer and salt and sugar dissolve.
Cool the brine down to warm and fill the jar so everything is covered with brine.
Close the lid tightly and refrigerate for 24 hours before eating.