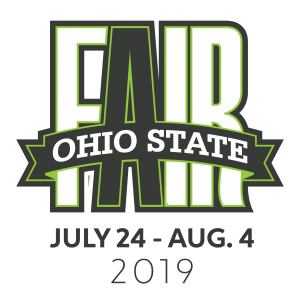 Join us in the Taste of Ohio Cafe at the Ohio State Fair as we cook some of the best food Ohio has to offer! The Ohio Proud Kitchen will feature First Lady Fran DeWine and Ohio's Commodity Groups as special cooking demonstration guests each day at 11 a.m. and 3 p.m. For specific demonstration information, visit the Ohio State Fair's website. Many of the amazing recipes featured during the 12 days of the fair are available below.
Healthy Homemade Pizza with First Lady Fran DeWine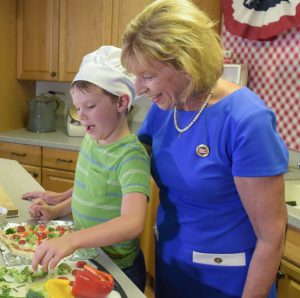 "I have always loved to cook and I love to encourage and teach others to cook and share recipes as well. I especially enjoy cooking with my grandkids."
Ingredients
3 cups flour
1 teaspoon salt
1 tablespoon yeast
1/2 cup warm water
1/4 cup canola oil
1/2 cup hot water
*You can substitute 1 cup whole wheat flour for white flour
Directions
Pulse flour and salt in Cuisinart a few times. Dissolve tablespoon of yeast into the 1/2 cup of warm water. Add all of the ingredients to flour mixture in food processor and turn on for 10-15 second until dough forms a ball and scrapes the sides of bowl. Let dough rise in greased bowl for one hour. If you don't have an hour, it's ok to go ahead and use the dough. The kids can each shape their own pizza on a piece of foil and add their own toppings and bake. Place pizzas on cookie sheet and approximately 12 minutes at 465 degrees. Adjust bake time to size and thickness of pizza.
American Dairy Association Mideast
Homemade Fluffy Biscuits with Flavored Whipped Butters– COMING SOON!
Chef: Hannah Lewis
Bio: Hannah Lewis is one half of the food blog, The Beard and The Baker. The other is her bearded husband, Joel. She lives in Columbus with her husband and almost 3-year-old daughter, who is a budding foodie in her own right. Hannah loves to make easy, delicious, and simple recipes for the whole family. Her blog is filled with tons of approachable recipes for the most beginner or advanced bakers and chefs. Whenever she isn't in the kitchen, she's spending time with her family in Columbus or traveling to new spots to try something new to eat.
Slow Cooker Creamy Green Chile Chicken Enchilada Soup
Ingredients
1 teaspoon olive oil
3/4 cup diced yellow onion
2 cloves of garlic, grated
1 pound boneless skinless chicken breasts
1 tablespoon ground cumin
1 tablespoon chili powder, green chile powder if you can find it
1/2 teaspoon smoked paprika
Kosher salt & fresh ground black pepper to taste
8 ounces diced green chiles
2 cups green enchilada sauce
4 cups low sodium chicken broth
2 (15 ounce) cans cannellini beans, rinsed & drained
1 cup frozen corn, defrosted
4 ounces lowfat cream cheese, room temperature
1 cup plain non-fat Greek yogurt, 2% or full fat may also be used
Shredded Monterey Jack cheese, cilantro & lime wedges for serving
Instructions
Heat the oil in a small skillet over medium-high heat. Sauté the onions for 3 minutes then add in the grated garlic and sauté another minute. Add them into to the slow cooker.
Add the ingredients through the cannellini beans into the slow cooker, stir, cover with the lid and set on low for approximately 6 hours, medium for 4 hours or high for 3 hours.
When the time is up remove the chicken breasts and let them cool for several minutes before shredding. Add the corn into the slow cooker.
While the chicken cools, whisk together the cream cheese and yogurt in a medium sized bowl until combined. Ladle some of the broth into the bowl and whisk until the yogurt/cream cheese mixture warms and thins out. Essentially what you are doing is tempering it so it doesn't curdle when added into the slow cooker.
Once the yogurt/cream cheese mixture is warm, pour it into the slow cooker and whisk everything together.
Add the shredded chicken back into the slow cooker and stir everything together. Serve immediately topped with cheese, cilantro and a squeeze of lime juice.
Chef: Karen Bakies, RDN, LD, FAND. Karen Bakies is the Vice President of Nutrition Affairs for the American Dairy Association Mideast, the local affiliate of the National Dairy Council. She is also a registered and licensed dietitian, as well as a Fellow of the American Academy of Nutrition & Dietetics. In her role she oversees state-wide partnerships and acts as a resource for health professionals, consumer leaders, media and the dairy industry. Assisting Karen is Laurie Stoiber, a retired school teacher and grandmother who enjoys cooking, eating and anything food related.
Ohio Pork Council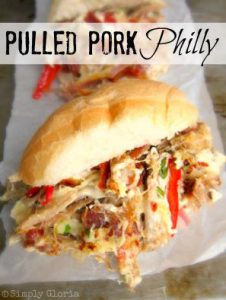 Pulled Pork Philly
Author: Gloria Phillips (SimplyGloria.com)
Prep time: 40 mins Cook time: 10 mins Total time: 50 mins
Serves: 8
Ingredients
1 pound Pork Roast (cooked and shredded)
1 pound bacon (chopped and fried)
1 red bell pepper (sliced)
1 red onion (sliced)
5 spring onions (chopped)
2 teaspoons crushed red pepper flakes
2 cups shredded mozzarella cheese
1 cup grated parmesan
4 slices provolone
8 ounces cream cheese
8 rolls
Directions
Preheat oven to 375 degrees.
1. Chop a pound of bacon and cook in a frying pan until crispy. Drain excess fat on paper towel. Set aside.
2. Shred (leftover) pork roast into medium bite-size pieces with hands or two forks.
3. Slice red bell pepper and red onion. Also chop spring onions.
4. Start layering process in a 2 quart baking dish with the following, in order.
5. First Layer: begin with half of all of your ingredients. red onions, red bell peppers, shredded pork, bacon, cream cheese, Parmesan, mozzarella, provolone (tear into pieces), spring onions, and crushed red pepper flakes.
6. Second Layer: repeat with remaining ingredients.
7. Cover with lid or foil. (If using foil, spray cooking nonstick spray onto the foil to prevent the cheese from sticking.)
8. Bake for 30 minutes, covered. 10 more minutes, uncovered. (40 min. total)
9. Slice 8 rolls and serve this AMAZING Pork Philly with any side salad for your family.
Pork Tenderloin with Sun Dried Tomato Relish and Potatoes
Prep: 15 min, Cook: 30 min
6 Servings
Ingredients
2 pork tenderloins
Salt and pepper, as needed
2 Tbsp. oil
½ cup sundried tomatoes, minced
1 Tbsp. red onion, minced
1 Tbsp. basil, chiffonade
1 Tbsp. chives, thin rings
1 clove garlic, minced
Pinch crushed red pepper flakes
1 Tbsp. extra virgin olive oil
8 small gold or red potatoes, halved
2 oz. pancetta
2 Tbsp. oil
Salt and pepper, as needed
Directions
1. Place potatoes in a pot of cold water. Bring to a boil, reduce to medium and cook until tender, about 15 minutes. Remove from water with slotted spoon and let cool slightly. Using the bottom of a pan, press potatoes into disks.
2. In a skillet over medium high heat, add oil and sear pork tenderloins on both sides. Add pancetta, reduce heat slightly, cook pork until internal temperature reaches 145 and pancetta is crisp. Remove meat and let rest 3 minutes.
3. In the same skillet leave the pancetta and pork fat, place potatoes skin side down and turn heat to medium-high. Crisp potatoes until golden brown and season with salt and pepper.
4. In a bowl, toss together all ingredients for relish.
About the Ohio Pork Council's Chef: Reily Bell is a 17 year-old from Zanesville, OH, where she will be a junior at Tri Valley High School in the fall. She is active in 4-H and shows hogs and beef. She is also very active in her local FFA Chapter, plays varsity golf, and is her class president. In the future, she plans to study agriculture and Spanish to combine her two passions. She enjoys cooking with her mom, and loves to try new recipes.
Ohio Poultry Association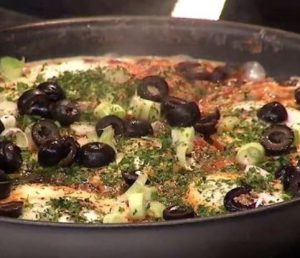 This Mexican classic gets a makeover in this flavorful one-dish meal that can be prepared cook-top in less than 20 minutes.
YIELDS: 4-6 servings
2 cups salsa
1 15.5-ounce can black beans, drain and rinse
9-ounces cooked turkey sausage crumbles
6 large eggs
2 scallions, sliced thin
¼ cup chopped cilantro
salt & black pepper
sour cream – optional garnish
In a large skillet, combine salsa, beans, and turkey sausage. If salsa is very thick, may need to add ¼ cup water. Bring to simmer, heating thoroughly.
Make 6 wells in the bean/sausage mixture. Crack an egg into a small bowl and gently slide it into the well. Repeat for the remaining 5 eggs. Season the eggs with a bit of salt and pepper. Cook, covered over medium heat 3-5 minutes for slightly runny yolks. Cook longer for firm, set yolks.
Serves 4-6. Garnish with scallions and cilantro. Add hot sauce and sour cream for an additional garnish, if desired.
One Skillet Mediterranean Poached Eggs
Ingredients
2 cups Marinara Sauce
1 15.5-ounce can Cannellini beans, drain and rinse
9-ounces cooked turkey sausage crumbles
6 large eggs
¼ cup torn basil leaves
¼ cup chopped Parsley
salt & black pepper
Olives – optional garnish
Directions
In a large skillet, combine Marinara, beans, and turkey sausage. Bring to simmer, heating thoroughly.
Make 6 wells in the bean/sausage mixture. Crack an egg into a small bowl and gently slide it into the well. Repeat for the remaining 5 eggs. Season the eggs with a bit of salt and pepper. Cook, covered over medium heat 3-5 minutes for slightly runny yolks. Cook longer for firm, set yolks.
Serves 4 – 6. Garnish with basil and parsley. Add olives, if desired.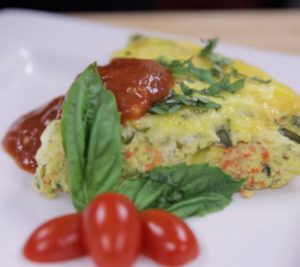 Ready in just 20 minutes, one-skillet Italiano Turkey Frittata is delicious any time of day. Simply sauté turkey and vegetables on the stovetop, add the zesty egg mixture and transfer to the oven. The perfect way to use up leftover Thanksgiving turkey!
Ingredients
10 eggs
2-3 Tablespoons milk or cream
1/4 cup chopped fresh basil, extra for serving (optional)
1 ½ cups shredded Asiago cheese, divided
½ cup shredded Parmesan cheese, divided
1 teaspoon salt
1 teaspoon pepper
1 fresh leek, well cleaned and thinly sliced
2 Tablespoons butter
1 ½ cups cooked turkey – shredded or cubed
1 large carrot, coarsely grated
1 medium zucchini, coarsely grated
1 cup warmed marinara sauce, if desired
Directions
Preheat oven to 350 degrees F.
In a large bowl, beat together the eggs and milk. Stir in the fresh basil, salt and pepper and ¾ cup of the Asiago cheese and ¼ cup of the Parmesan cheese. Set aside.
In a large 12-inch non-stick oven proof skillet, sauté the leeks with butter for approximately 2 minutes. Add the turkey sausage, carrots and zucchini and sauté for 2 minutes, or until heated.
Add the eggs to the vegetables and stir to begin cooking.
Let the eggs mixture begin to cook for a few minutes, running a rubber spatula around the edge of the frittata.
Sprinkle with the remaining Asiago and Parmesan cheese.
Transfer the skillet to the oven for about 20-25 minutes or until a knife inserted in the center comes out clean.
Bring to the table and serve from the skillet; cut into pie wedges.
Serve with shredded fresh basil and marinara sauce over the top of each slice, if desired.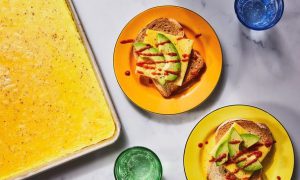 Ingredients
• 18 large eggs
• 1/3 cup heavy cream
• Salt and pepper to taste
• Nonstick cooking spray
Directions
Preheat oven to 350 degrees F. Spray a 18×13 inch sheet pan with the cooking spray careful to spray the bottom as well as the sides of the pan. Whisk the eggs, heavy cream and salt and pepper well making sure it is thoroughly mixed. Place the sheet pan on the oven rack and pour the egg mixture into the pan. Bake until the eggs are set about 12-15 minutes. Let cool for about 5 minutes and cut into squares of your desired size.
Note: You can stir in by hand any of your favorite fillings such as cheese, diced ham or bacon, crumbled sausage and a variety of herbs prior to baking. This very versatile recipe can be made into sandwiches with toppings of your choice or dice the squares into small cubes and add to a salad!
Turkey Waldorf Salad
Ingredients
2 cups cooked turkey, medium dice (about 8 ounces)
1 medium tart, crisp apple, such as Granny Smith, cored
and cut into medium dice
1 cup seedless red grapes, halved or 2/3 cup dried cranberries
3 medium celery stalks, cut crosswise into 1/4-inch pieces
3/4 cup mayonnaise
1/2 cup walnuts, toasted and coarsely chopped
2 Tbsp. coarsely chopped fresh Italian parsley leaves
1 Tbsp. freshly squeezed lemon juice
Yields: 4 hearty servings
Directions
Combine all of the measured ingredients in a large bowl. Taste and season with additional salt and pepper as needed. Serve on leaves of butter lettuce.
Buffalo Chicken Parfait Presented by FFA
Chef: Callie Cromer, Sophomore, Ridgemont High School FFA (Stephanie Jolliff/Shelby Faulkner)
Dairy Ambassador Hardin County
Keystone Meats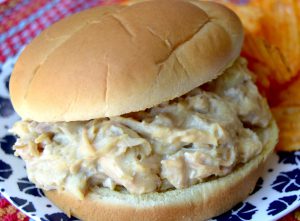 Classic Keystone Shredded Chicken Sandwich
Creamy, warm and delicious! This classic Keystone shredded chicken sandwich is sure to please even the pickiest of eaters in the family. So easy to make, just add recipe ready, fully cooked Keystone Chicken and a can of cream of soup and this quick and easy recipe will be ready to serve in under 15 minutes!
Ingredients
• 28 oz can Keystone Chicken
• 1 can (10 3/4 oz) cream of mushroom soup
• 1/2 cup dry stuffing mix, crushed
• 6 hamburger buns
Directions
1. Add Keystone Chicken with juices to pan and warm over medium heat.
2. Shred chicken with a fork. Add stuffing mix.
3. Heat thoroughly for 5-10 minutes while stirring.
4. Serve with buns and a side of your favorite pickles.
Special Thanks to Ohio's Commodity Groups, DNO Produce, Dei Fratelli, Carfagna's and the Taste of Ohio Café for helping to make this year's cooking demonstrations a success!