Ready or not, the holiday season has arrived! As you begin your shopping, we hope you will consider buying local this year by purchasing an Ohio Proud gift basket. What better way to celebrate than to give a gift that supports local businesses in your community, while getting unique and thoughtful gifts for everyone on your list?
Every product in these baskets is at least 50% raised, grown or produced in Ohio. Ohio Proud products can be found in your local grocery store, or specialty retailers such as Celebrate Local (Easton), Simply Vague (Tuttle), The North Market and the Ohio Statehouse Gift Shop (Downtown Columbus).
With a big help from Celebrate Local, we bring to you some amazing themed gift baskets. CL has an extensive variety of Ohio Proud products, assuring a gift for everyone on your holiday list. We have highlighted many of them below, and more will be showcased through Ohio Proud's Facebook, Instagram and Pinterest pages.
Do you have someone on your list with a serious sweet tooth? A sweet treat gift basket would be the perfect gift to satisfy their sugar craving!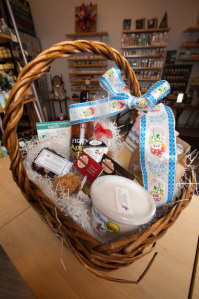 Contents of this basket include:
• Joy's Fairy Floss (Columbus), Gourmet Cotton Candy
• Three Kids and a Kitchen (Reynoldsburg), Caramels
• Dolce' Pizzelles (Hammondsville), Cookie Company
• Figg's Liquid Innovations (Mansfield), Hot Apple Pie Cider
• Hondel Haus (Columbus), Homemade Buckeyes
• Sheril Ann's (Columbus), Peanut Chews
• JC's Sweet Ice Tea, LLC (Gahanna), Southern Style Sweet Tea
TOTAL: $40
Have an early riser on your list? A breakfast-themed basket might be just the ticket. They can entertain themselves with it while you sleep in!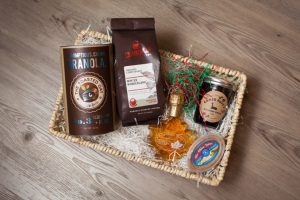 Contents of this basket include:
• The Toasted Oat (Columbus), No. 3 Blueberry + Flax Granola
• Bissell Maple Farm (Rock Creek), Pure Maple Syrup
• Cameo Rose's Blueberry Cream Jam
• Crimson Cup Coffee (Columbus), Winter Wonderland Season Blend
• Aimee's Blue Ribbon Spices (Granville), Cinnamon Apple Pie Bagel Spread
Total is $40
Who doesn't love chips and dips? Give your friends and family the gift of the perfect snack pack! This basket includes something for everyone: sweet, salty, tangy and spicy.
Contents of this basket include:
• Dzalt Enterprices, LLC (Londonderry), Creamy Buffalo Ranch Dip
• Shagbark Seed & Mill Co. (Athens), Corn Chips
• A Bit of A Bite Salsa, LLC (Miamisburg), Medium Salsa
• Cottage Creations by Donna (Reynoldsburg), Twist N' Shout Salsa
• Taste Weavers (Urbana), Key Lime Cheesecake Dip
TOTAL: $40
How about a gift for your furry friend? We have you covered with this adorable basket that will make the pups in your life drool, literally.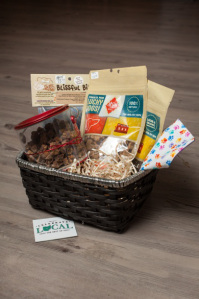 Contents of this basket include:
• Jackpot Treats
• Blissful Biscuits
• *Bandana*
TOTAL: $35
Other themed baskets include wine, hot and spicy and gluten free goodies.
For Wine Lovers.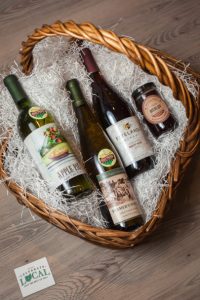 Contents of this basket include:
• Maize Valley Winery (Hartville), Apple Pie Fruit Wine
• Mixology Marmalades (Reynoldsburg), Mulled Merlot
• Troutman Vineyards (Wooster), Farmer's White Wine
• Firelands Winery (Sandusky), Pinot Noir
TOTAL: $55
***Alcohol cannot be shipped, but can be purchased in store.
Those looking for a hot, hot, hot gift!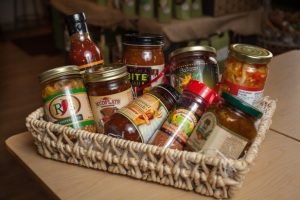 Contents of this hot and spicy basket include:
• Honeyman Gourmet Products (Columbus),
• Royal Fireworks Sauce (Columbus), A spicy sweet Explosion sauce & A sweet crescendo
• Black Swamp Gourmet (Toldeo), Spicy Rub
• Mudflats Brand Sauces, Inc. (Galena), Ragin' Cajun' Sauce
• CaJohn's Fiery Foods (Westerville), Blackbean and Corn Salsa
• Wishwell Farms, Sweet Pepper Relish
• RJ's Pepper Pantry, Hot Peppers in Oil
• Szagorski's, Hot Peppers
TOTAL: $50
Don't forget about your gluten-free friends!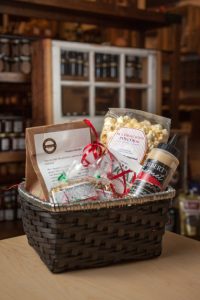 Contents of this basket include:
• The Brown and Blond (Marysville), Pumpkin Blondies
• Al's Popcorn (Columbus), Vanilla Butternut
• The Ohio Relish Company, LLC (North Canton), Gourmet Hot Dog Mustard
• Plant Kingdom Bakery, LLC (Akron), Coconut Chocolate Hemp Bars
TOTAL: $20
We want to give a big thank you to the crew at Celebrate Local for putting together these baskets, particularly Heidi and Ruthie. We hear Ruthie is the gift basket guru at Celebrate Local, and boy did she do a great job!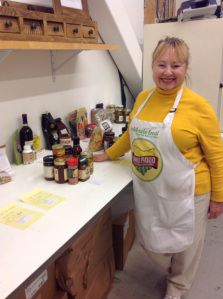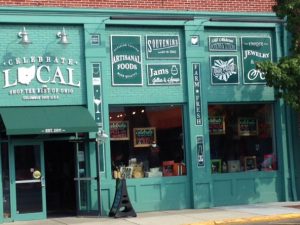 To order these gift baskets and more, visit the Celebrate Local website and send them an email with what type of basket you are looking for, or visit them at Easton! For more information about the products seen here, all Ohio Proud products, more gift ideas and recipes, visit http://www.OhioProud.org.