Whether you're mixing drinks for a dinner party or need a hardy tailgate beverage to revive you back to life–Vodka is a bar cart staple that has the ability to mix well with any number of ingredient combinations. In honor of October 4 being National Vodka Day, we've compiled a few of our favorite cocktail recipes using two of Ohio's most well known spirit makers–Buckeye Vodka and Middle West Spirits.
OHIO COLLINS: A TWIST ON THE CITRUS-FORWARD COLLINS—A CLASSIC REINVENTED.
INGREDIENTS
1 OZ. OYO AMERICAN CHARACTER VODKA
1 OZ. ST. GERMAIN ELDERFLOWER LIQUEUR
0.5 OZ. FRESHLY SQUEEZED LEMON JUICE
0.25 OZ. SIMPLE SYRUP, OR TO TASTE (OPTIONAL)
Build in a collins glass over ice and top with club soda. Garnish with a lemon wheel or a Luxardo cherry. Optional: Drizzle with house-made grenadine* or maraschino syrup.
*House-made grenadine: Simmer 1 cup (8 oz.) of pomegranate juice and reduce it down to half the liquid volume (about 10 minutes). Stir in 1/3 cup of cane sugar and turn heat to low. Once sugar has completely dissolved, remove from stove top and add 0.5 to 1 ounce neutral vodka to extend freshness (optional). Store in the refrigerator.
BV BLOODY MARY
INGREDIENTS
2 OZ BUCKEYE VODKA
1 LEMON WEDGE
1 LIME WEDGE
4 OZ TOMATO JUICE
2 DASHES TABASCO SAUCE
2 DASHES WORCESTERSHIRE SAUCE
1 PINCH SALT
1 PINCH GROUND BLACK PEPPER
1 PINCH SMOKED PAPRIKA
Fill cup with ice and set aside. Squeeze the lemon and lime wedges into a shaker and drop them in. Add the remaining ingredients and fill with ice. Shake gently and strain into the prepared glass. Garnish with a celery stalk, bacon, olives, meats…anything your heart desires!
SPANISH 43: A REFRESHING BLEND OF CITRUS, BOURBON, HONEY, AND BUBBLES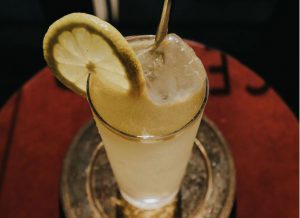 INGREDIENTS
2OZ. OYO BARREL-FINISHED HONEY VANILLA BEAN VODKA
0.5 OZ. LIQUEUR 43 (CITRUS VANILLA LIQUOR)
DASH OF FRESHLY SQUEEZED LEMON JUICE
TOPPED OFF WITH SPARKLING WINE
Mix vodka, liquor, and lemon juice in a mixing tin with ice. Pour over fresh ice in a collins style rocks glass. Top off with sparkling wine. Garnish with lemon wheel (or flamed peel for the more adventurous).
SPARKLING CARAMEL APPLE CIDER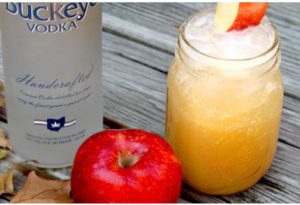 INGREDIENTS:
3 OZ BUCKEYE VODKA
3 OZ APPLE CIDER
1 TBSP. CARAMEL SAUCE
GINGER BEER
How to Make: Mix Buckeye Vodka, apple cider, and caramel sauce in a tumbler. Pour over ice and top with ginger beer.
POM PUNCH: AN ADULT TWIST ON THE CLASSIC CHILDHOOD SUMMER DRINK.
INGREDIENTS
1 OZ. OYO AMERICAN CHARACTER VODKA
1 OZ. OYO STONEFRUIT VODKA
1 OZ. POMEGRANATE JUICE
0.5 OZ. FRESHLY SQUEEZED LIME JUICE
0.5 OZ. ORGEAT SYRUP (ALMOND SYRUP)
3-4 DASHES ANGOSTURA BITTERS
Combine ingredients in a shaker with ice, shake lightly, pour over fresh ice and top with chopped seasonal fruit. For Punch Bowl: Multiply ingredients by number of desired servings. Combine ingredients in a punch bowl, stir. Chop fresh seasonal fruit and float in bowl. Serve over fresh ice with chopped fruit floating in it.
BV ESPRESSO MARTINI
INGREDIENTS
1 PART BUCKEYE VODKA
1 PART KAHLUA
1 PART ESPRESSO
How to Make:
Add all ingredients to shaker filled with ice. Shake it up and strain into a martini glass.
Visit Middle West Spirits and Buckeye Vodka for more great cocktail recipes!