The holidays are here and we're ready to entertain with all of our favorite, festive Ohio products. On this episode Dishing with Dorothy, Director Pelanda and Jim Chakeres from Ohio Poultry Association make mulled wine, homemade eggnog, and a charcuterie board filled with Ohio meats, cheeses, and more.
Spice up your holiday with this warm & cozy Mulled Wine Recipe
Mulled Wine Ingredients:
1 orange
8-10 whole cloves
1 cup (240ml) orange juice
½ cup (100g) sugar
½ cup cranberries fresh or frozen (optional)
1-2 cinnamon sticks
1 bottle Ohio wine
Wine Note: Any dry, full-bodied wine works perfectly! Merlot, Cabernet Sauvignon, Zinfandel, Syrah, or Pinot Noir are all great choices. And nothing fancy here, but something that you like to sip on on its own too!
Instructions
1. Cut an orange into quarters. Push 2-3 whole cloves into the outer skin of quartered oranges, as pictured above.
2. In a large pot, combine orange juice, sugar, cinnamon sticks, orange quarters with cloves and cranberries.
3. Turn the heat to medium high and slowly heat the mixture, stirring occasionally until the sugar is dissolved.
4. Once sugar is dissolved completely, bring it to a boil and cook until it thickened and reduced by almost half, about 15-20 minutes.
5. Reduce the heat to low and pour in wine.
6. Simmer until wine is heated through. Don't boil, or alcohol will evaporate.
7. You can strain the wine and pour into a slow cooker to keep it warm. Garnish with orange slices and serve warm.
Make-Ahead Tip: Follow the steps 1-4. Keep the syrup in fridge for up to 3 days. When ready to serve, mix it with wine in a large pot and warm it up. Or better yet, place it in a slow cooker to keep it warm longer!
Eggnog is the perfect drink for any holiday gathering! Use just a few household ingredients to make this classic and festive drink.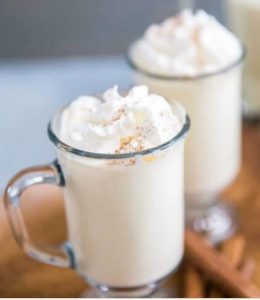 Classic Cooked (then chilled) Eggnog Ingredients:
6 large eggs
¼ cup sugar
¼ tsp. salt
4 cups whole milk, divided
1 tsp. vanilla
12 cinnamon sticks for garnish
For a kick, we added a splash of Watershed Distillery Bourbon
Instructions
1. Beat eggs, sugar and salt in large heavy saucepan until blended. Stir in 2 cups milk.
2. Cook over low heat, stirring constantly but gently, until mixture is just thick enough to just coat a metal spoon with a thin film and temperature reaches 160°F, about 15 minutes. Do not allow to boil. Remove from heat immediately.
3. Stir in remaining 2 cups milk and vanilla. Refrigerate, covered, until thoroughly chilled, several hours or overnight.
4. When ready to serve, pour a splash of Bourbon over each individual glass of eggnog, and top with whipped cream and sprinkles as wanted.
One of the simplest go-to appetizers you can pull off at home is a batch of deviled eggs– Try these with a Christmas Twist!
Deviled Egg Ingredients:
12 large eggs, hard cooked and cut in half lengthwise
6 tbsp. mayonnaise
2 tsp. mustard
1 tsp. cider vinegar
Salt and pepper, to taste
1/4 cup pomegranate seeds, for garnish
3 sprigs of Rosemary, for garnish
Tip: Easy-Peel Hard-Boiled Eggs Instructions Can be Found Here
Instructions
1. Separate the yolks from the whites and put yolks in a small bowl.
2. Mash the yolks with a fork or pastry cutter until there are no lumps.
3. Add the mayonnaise, mustard, vinegar, salt and pepper, and stir until combined.
4. Arrange egg whites on a platter. Using a pastry bag or by dolloping, fill the whites with the yolk mixture.
5. Add a small amount of mixture to your serving platter in spots where eggs will sit. Place deviled eggs and top with a sprinkling of pomegranate seeds and a short sprig of rosemary.
6. Serve immediately or wrap and store in the refrigerator until ready to serve.
Merry and Bright Charcuterie Board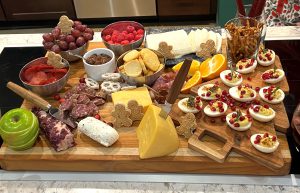 A gorgeous charcuterie board is the perfect centerpiece for holiday parties, New Year's celebrations, or for a quiet night at home with your significant other. Creating a delicious board is just a matter of pulling together the
right combination of ingredients, from your meat and cheese charcuterie staples, then adding some fruit, crackers and a few fun treats sprinkled in between.
Here's what we used to build a bright and festive holiday board:
Guggisberg Swiss Cheese
Blue Jacket Dairy Herb Goat Cheese
Miceli's Fresh Mozzarella
North Country Charcuterie Salami
Streb's Beef Sticks
U Dough Girl Whiskey Stix Pretzels
Bellisari's Blistered Jalapeno & Fig Spread
Turkey Pepperoni
Bruschetta Chips
Cranberry Goat Cheese
Sharp Cheddar Cheese
Hot Honey
Raspberries, Green Apple, Red Grapes, Oranges
Gingerbread Cookies, White Creme Covered Pretzels